Jointly organized by the China-US Leadership Development Foundation (CULDF) and the Young Global Leadership Foundation (YGLF), in collaboration with DT. School, ZVCA, Hong Foundation, Puthishe Cross-School EMBA Alumni Alliance, and co-hosted by Henry Group and Future New Generation, the "2023 China-US Youth Leadership Summit" (referred to as the "Summit") was held in Boston, United States on August 6, 2023.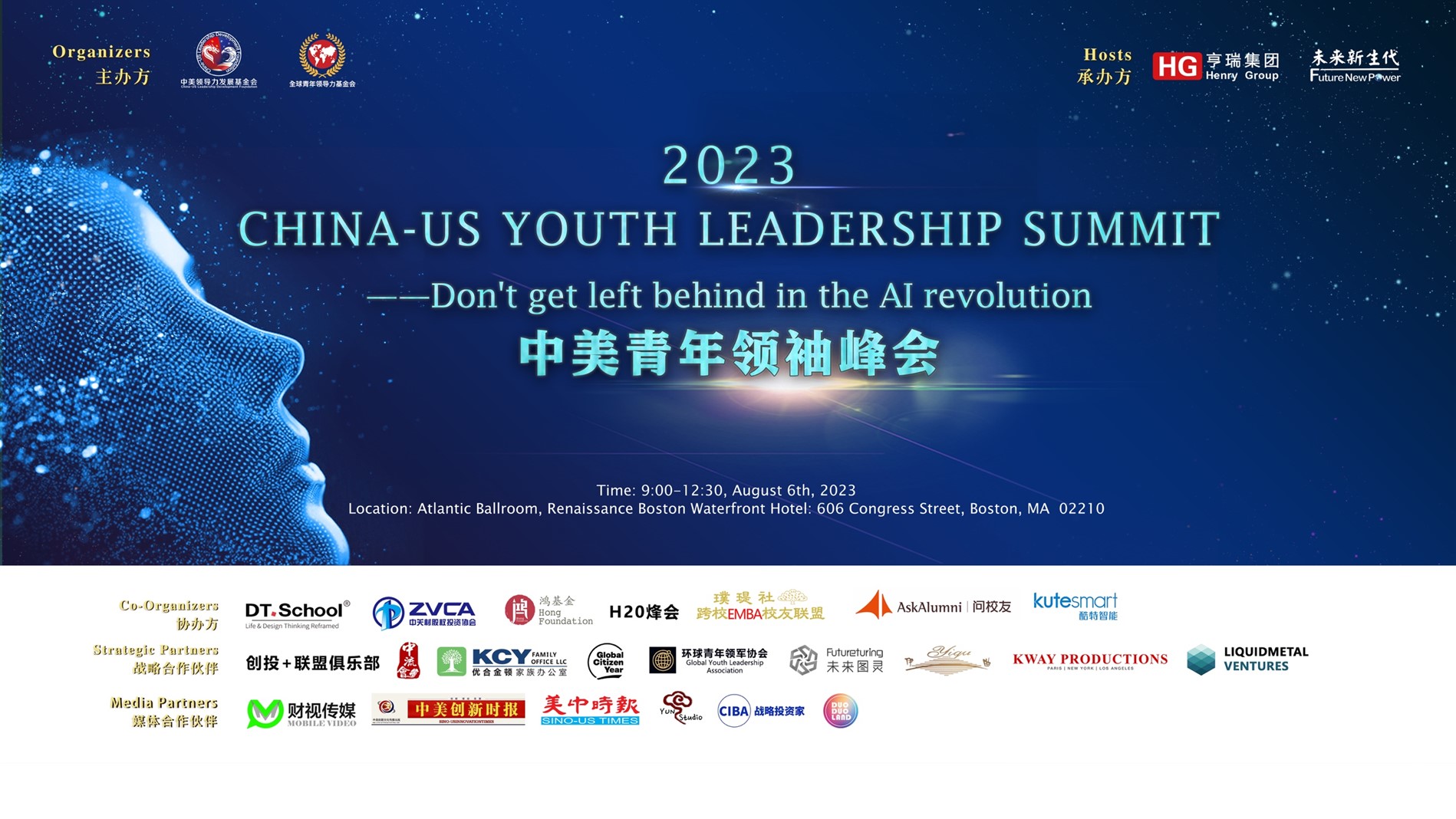 During the half-day summit, notable highlights included the opening remarks by Dr. Li Hong, Founder and Chairperson of the Summit, a welcome message from Dr. Zou Henry, representing the organizers, and a video message from prominent Silicon Valley youth investor Lu Zhang. Notably, Attorney Huang Ye read congratulatory letters from Governor Maura Healey and Lieutenant Governor Kimberley Driscoll of the State of Massachusetts. In their letters, the state officials acknowledged the efforts of the Summit in enhancing bilateral cultural exchange and cooperation between China and the US, as well as its role in addressing global challenges.
This Summit came at a crucial juncture, set against the backdrop of two significant contexts:
The "post-pandemic reconstruction" era following COVID-19, particularly focused on psychological and spiritual rebuilding of global humanity, as well as the reconstruction of national systems and international order.

The emergence of a new era driven by AI and ChatGPT, prompts a need to recalibrate the values and missions of the second and third generations of young people.
The Summit featured keynote speeches by leading figures in innovation education and economics. Professor Bill Burnett, Founder of the Stanford Life Design Lab, delivered a speech titled "Disruptive Design: Design Your Life and Your Job in Changing Times?" He discussed designing the future in an uncertain world, emphasizing the importance of curiosity, collaboration, and action-oriented thinking. He believed that a series of disruptive events, including artificial intelligence, the COVID-19 pandemic, climate change, and economic sluggishness, have made the future increasingly unpredictable. Contemporary individuals are confronted with the challenge of how to design a meaningful life for themselves in a complex and ever-changing world.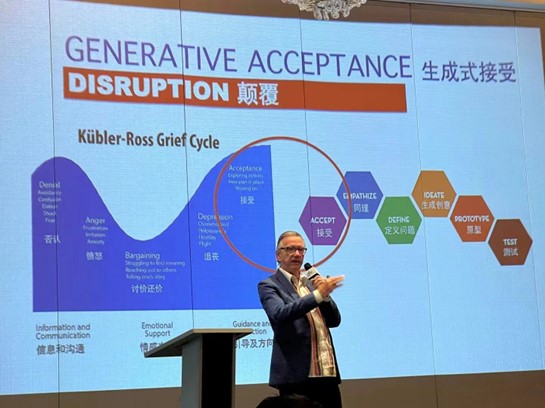 Professor Bill Burnett, basing his ideas on the concept of "designing life," presented a framework for approaching life using design thinking. He emphasized five key thinking points: maintaining curiosity, engaging in reconstruction, focusing on the process, collaborating effectively, and being action-oriented. "The best way to predict the future is to design it," Professor Bill Burnett stated during his speech, highlighting the importance of first accepting the present reality and realizing that the future is uncertain. Curiosity serves as a catalyst for creative energy, while collaboration and experimentation contribute to forging a new future. Additionally, he noted that sharing personal stories can invite others to join in exploring the unknown journey.
Professor Bill Burnett asserted that contemporary concerns about new technologies like artificial intelligence stem from fear, and maintaining such fear might lead to missing out on numerous opportunities. Conversely, he stressed the significance of confronting fear, embracing challenges, and discovering more possibilities in an unknown future through courage and hope.
In the subsequent segment, Dr. Guan Qingyou, a renowned Chinese economist and Chief Economist of the Ruisi Finance Institute delivered a keynote speech titled "A Thrilling Leap: Changes in the World Pattern and Trends in the Chinese Economy." He shared his perspectives and observations on China's economic recovery. Dr. Guan highlighted that China's economic recovery had experienced ups and downs, deviating from earlier expectations, particularly with unforeseen developments after the Spring Festival. He pointed out that many industries anticipated a robust recovery after factories reopened post the Spring Festival; however, the situation suddenly shifted in May and June. This change was partially attributed to rapid capacity expansion by various enterprises, resulting in overcapacity.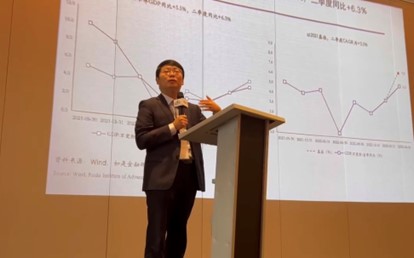 Dr. Guan Qingyou likened the relationship between China and the United States to a distant couple whose ideological differences and conflicting economic interests have strained their relationship. He noted that the world is entering a period of "collapse of traditional norms and declining social morals," leading to a reconfiguration of global order, which is also a challenge that China must confront in its external environment.
Despite facing short-term challenges, Guan Qingyou believed that China still possesses numerous opportunities. These include the vast scale of the Chinese market and the existing disparities in urban and rural development. He pointed out that China maintains relatively low entry barriers in many industries, offering substantial room for growth. Additionally, he highlighted China's engineering dividend and the continuous progress in technological innovation.
Subsequent to this, during the following thematic discussions, other prominent guests delved into topics such as making life choices in the post-pandemic era and navigating the impact of AI, as well as addressing the cultivation of future leadership skills. Each of these speakers shared their insights and perspectives on these critical subjects.
The first thematic session of the conference was titled "Post-Pandemic Era: Rebuilding the World Order, Where Do We Go from Here?" and was moderated by Dr. Li Feng, Deputy Director of Tzu Chi Boston and a simultaneous interpreter for former U.S. President Bill Clinton. In response to this topic, Bill Burnett offered his suggestions. He emphasized the need for a positive mindset and the ability to see hope. He highlighted the importance of adopting a perspective of complete acceptance to understand and view the world anew, enabling the younger generation to discover and explore from this viewpoint. By using the principles of designing life, individuals can realize their potential to bring positive impact to society.
From an economic perspective, Professor Guan Qingyou mentioned that Chinese entrepreneurs possess remarkable resilience. Reflecting on China's developmental history, he noted that China's entrepreneurs displayed courage and optimism in the face of numerous challenges, leading to China's remarkable achievements. Despite the significant challenges China faces today, Professor Guan expressed his belief that China will find suitable methods to address and overcome them.
In summary, the session delved into the post-pandemic world, discussing the importance of a positive mindset, reimagining the world with acceptance, and harnessing the resilience and optimism of individuals and entrepreneurs, particularly in the context of China's challenges and opportunities.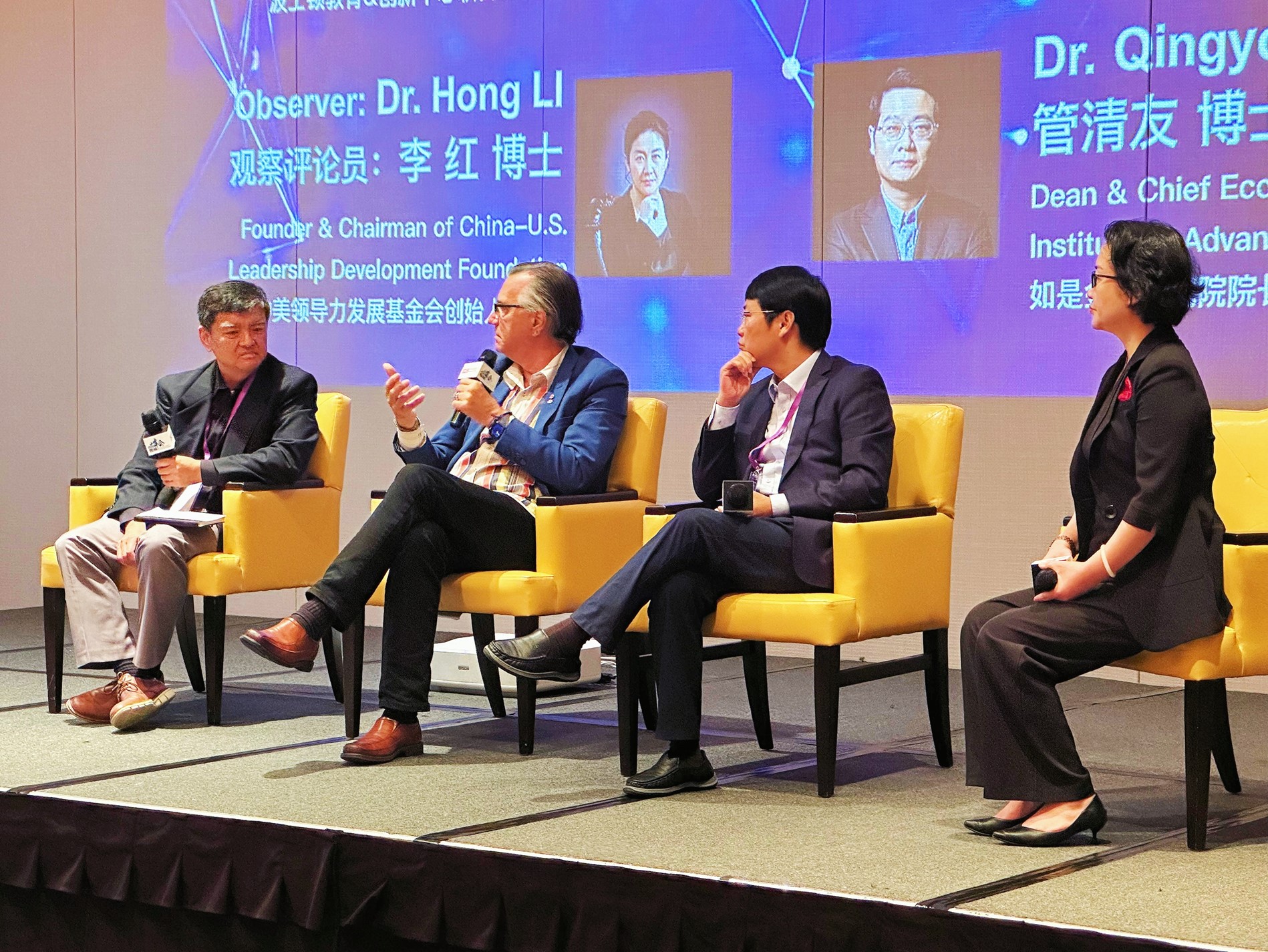 In the second thematic session of the conference, titled "The AI Era: How Do We Design Our Lives in an Age Disrupted by ChatGPT and AI?", Ms. Wang Wei, President of Blue Dot Institute, discussed the applications of AI technology in the field of marketing. She highlighted how AI is helping businesses reduce costs and increase efficiency in creating advertising and public relations content. Currently, AI applications in marketing often involve small-scale models and human intervention to encourage wider usage and enrich knowledge and content databases. AI excels in generating standardized market, industry, and product information, leading to increased efficiency and reduced costs. However, for tasks involving the formation of unique core viewpoints, personalized styles, predicting future trends, and expressing complex emotions and cultural nuances, professional and experienced human intervention is required.
When addressing the host's question about the application of AI in social public affairs and public opinion management, Ms. Wang Wei emphasized that AI can aid in quickly collecting underlying data, enhancing the "speed" of public opinion management. However, for handling issues involving human nature and the need to establish emotional consensus, such as crisis management, there are limitations in addressing "attitude" and "scale." Particularly in crisis PR involving life and public events, establishing empathy and consensus based on local cultural contexts becomes crucial. Profound professional human intervention is required to carefully craft external communications. AI technology is a tool, a technical means. We need to be able to control and utilize it effectively, understanding when and how to use technology to achieve specific goals, rather than relying on it entirely.
Mr. Zhang Qing, Founder of US-China United Investment Foundation and President of the Association of US-China Professional Accountants (AUCPA), discussed investment opportunities in the AI era. He highlighted that the 1990s marked the emergence of the internet in the first wave of technological development, followed by the rise of social networks and mobile communication in the second wave. Currently, AI is at the forefront of innovation, beginning to show its true potential. It is expected that new and lesser-known enterprises will emerge in this field. Regarding wealth management, Mr. Zhang believed that the probability of AI replacing human fund managers is still relatively low. He emphasized that individuals in the industry should actively embrace change.
In this session, the focus was on AI's impact on various sectors, particularly marketing and investment, highlighting both its capabilities and limitations and emphasizing the importance of human expertise and intervention.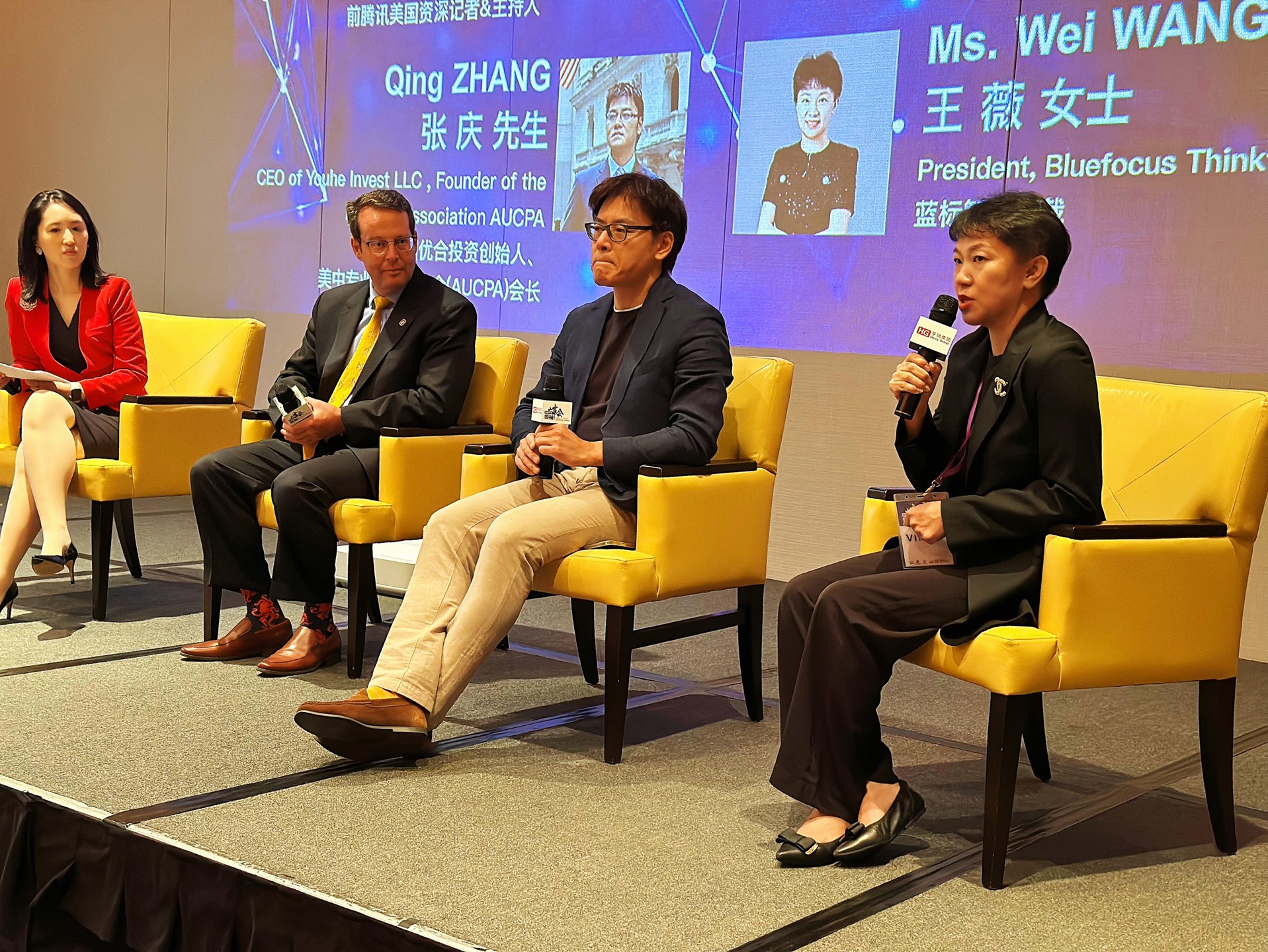 The third panel session of the conference explored "Cultivating Future Leadership," featuring several seemingly unrelated professionals: Mr. Zhao Jixian, a MIT postdoctoral fellow and a pioneer in American venture capital; Mr. Kevin Coq, a French producer involved in the creation of "The Wandering Earth 2"; and a local private high school principal. Guided by moderator Sun Yuhong, they shared surprisingly consistent perspectives on the principles of nurturing future talents: internationalization, diversity, and respect for individuality.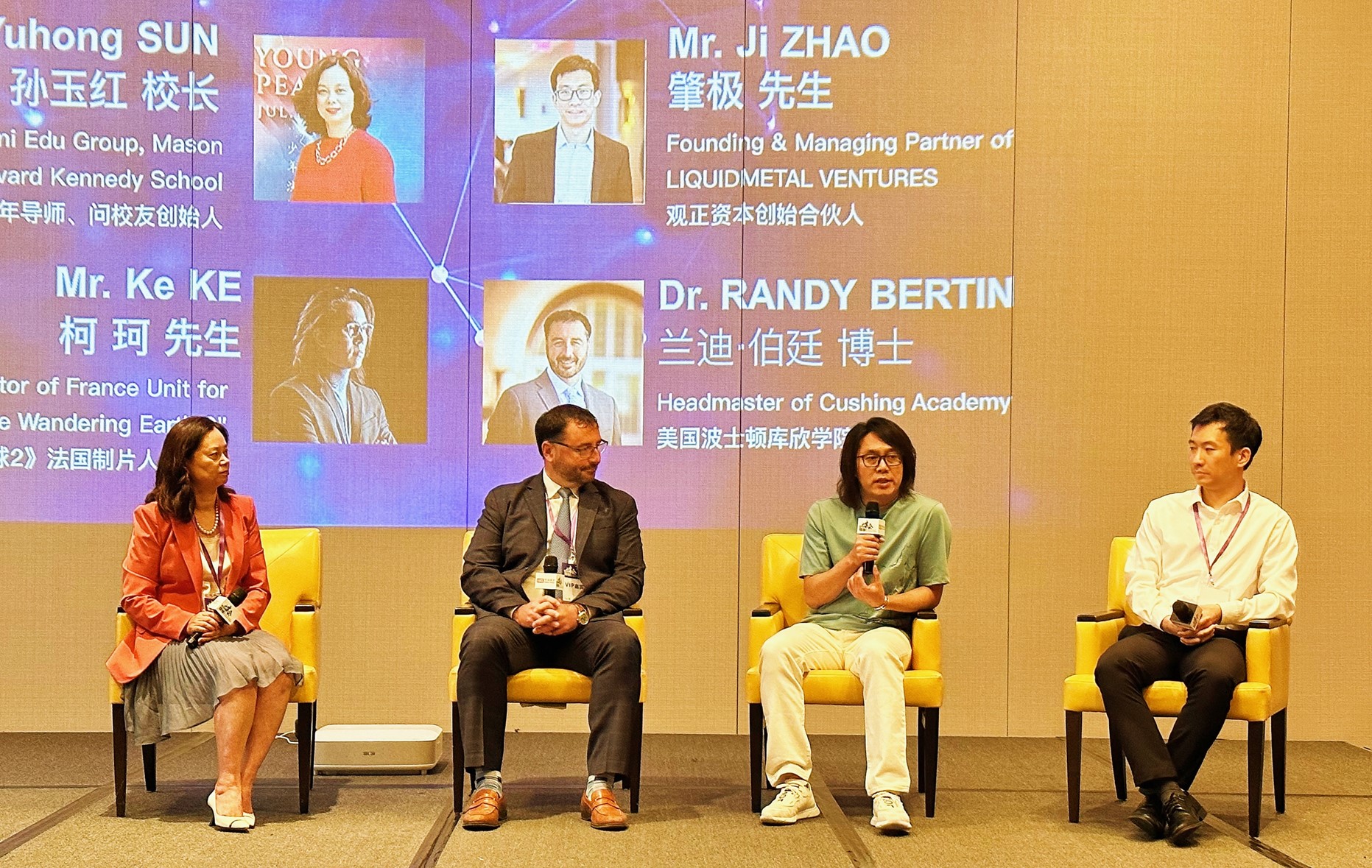 The representative of the conference organizer, Chairman of the Board of Directors of Hungrui Group, Mr. Zou Hungrui, believes that artificial intelligence has impacted human society, geopolitical dynamics have undergone sudden changes, and global economic recovery remains sluggish. These global issues profoundly affect the survival and destiny of every individual at various levels. The friendly and long-term stable development between the two most influential countries globally, China and the United States, is a critical factor influencing global future trends. Against this backdrop, the cultivation of young leaders who can adapt to technological advancements, possess comprehensive skills, and adeptly address global challenges not only serves as a vital driving force for revitalizing global economic vitality but also an essential link for the benign development of China-US relations. Nurturing more outstanding young individuals, enabling them to grow into an influential new generation force across various fields, forms the foundation and guarantee for promoting and maintaining peaceful and friendly China-US relations. Hungrui is dedicated to realizing a "New Quad" of global investment in the era of globalization of education, identity, assets, and enterprises for both corporations and individuals.
The development of Sino-US relations relies on the active participation of young people. Chinese President Xi Jinping once stated, "The foundation of China-US friendship lies in the people, exchanges occur between the people, and hope resides in the youth." Young people are the future leaders and decision-makers of both China and the United States, as well as the inheritors and improvers of the new type of major-country relationship between the two.
Dr. Li Hong, the conference chair, pointed out in her opening remarks that as two major powers in the world, China and the United States should have strategically joined hands and engaged in benign competition in order to advance world civilization and jointly solve the many pressing issues such as climate, environment, energy, and international relations upon which our survival depends. However, in recent years, the development of Sino-US relations has reached a historical low point due to various reasons… The future development and historical mission of Sino-US relations are a weighty and long-term responsibility for the younger generation. To advance and improve Sino-US relations, both China and the United States should start with educating children, putting an end to the long-standing mutual harm in public opinion. Through the voice of the "China-US Youth Leadership Summit," we hope to convey this noble aspiration and look forward to attracting more attention from the elite community to the mission of our summit.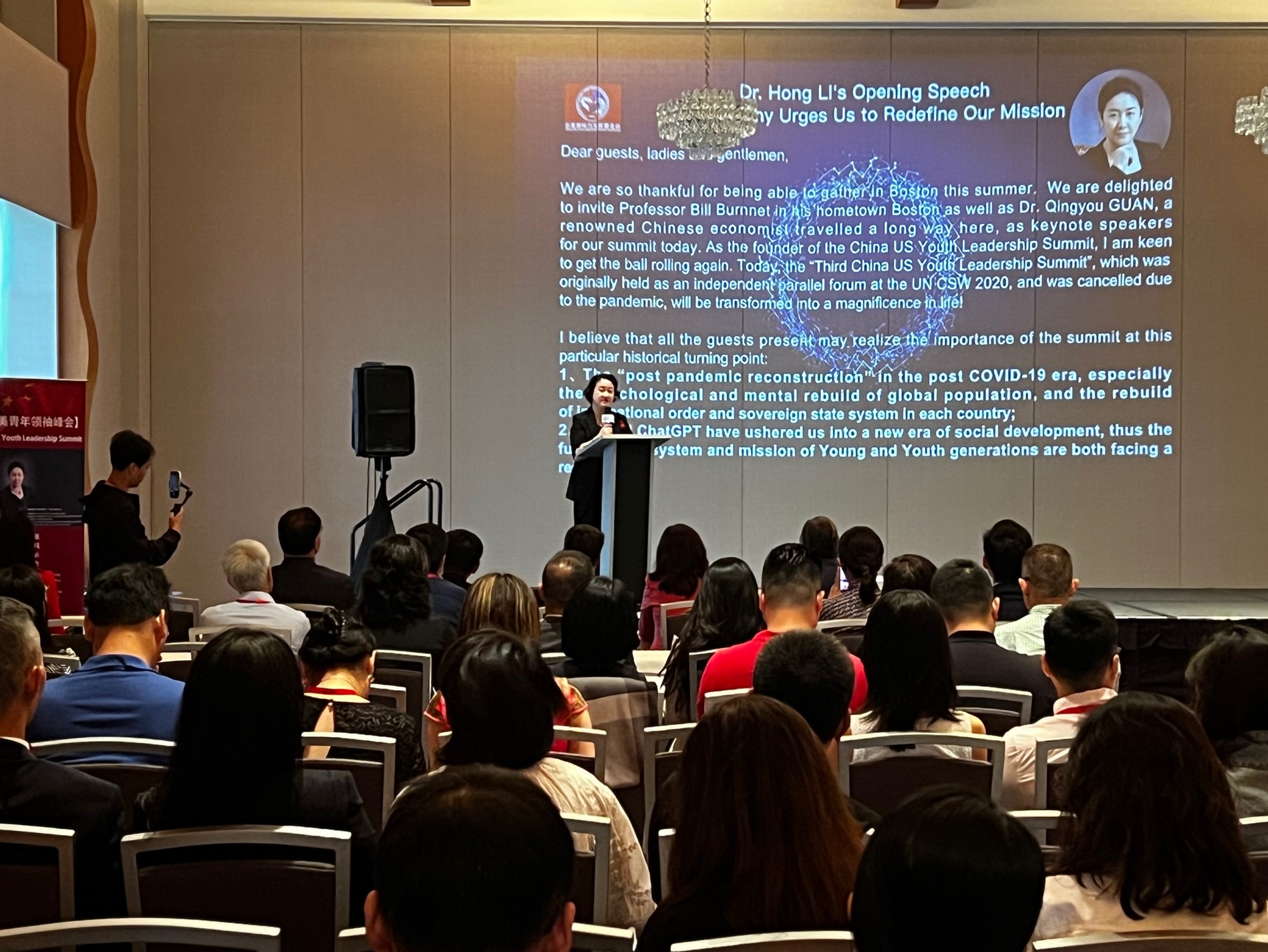 Dr. Li Hong, the founder of the Sino-US Leadership Development Foundation, and also one of the founders of the conference organizer "Future New Generation," shared her plans and initiatives for establishing the "Future Leadership Center" in Boston, USA, towards the end of the conference. She proposed that the "Future New Generation" is an incubator platform dedicated to nurturing and cultivating leadership talents among the second and third generations of Chinese and American individuals. The mission of the platform is to "assist the excellent to become outstanding, and support the outstanding to become leaders." Over the next 3-5 years, the "Future New Generation" intends to collaborate with the Sino-US Leadership Development Foundation and the Hong Foundation to establish the "Boston Elite Ecosystem – Future Leadership Center" at the Boston Seaport City.
The goal of this initiative is to create a platform that brings together global outstanding projects in a project/entrepreneurship/innovation incubator, facilitates exchange and collaboration by attracting global strategic investments and resources. The center will launch the "Future Leadership Development Program," which will involve inviting top-level think tanks and industry leaders from China and the United States to provide assistance, conducting online or offline lecture series featuring prominent figures and experts, and incubating or collaborating on Sino-US youth exchange programs (summer camps, science camps, traditional culture camps, "Future Leaders" camps, and parent camps).
The center aims to establish partnerships with institutions and individuals of the highest standard, beginning with top-tier seed participants and organizations. It places emphasis on intergenerational inheritance by exploring successful family values and case resources. The focus is on cultivating leadership among the third generation of young individuals, with attention to the second generation's leadership development and harnessing the full strategic resources and intellectual inputs of the first generation. The center's operational model is based on an AI-era lightweight operation, an open sharing mechanism, systematic theoretical achievements, and efficient empirical results.
This initiative and plan have garnered significant attention and strong endorsement from various quarters, including local Chinese community leaders, the Asian American Association, youth organizations, and local media in Boston.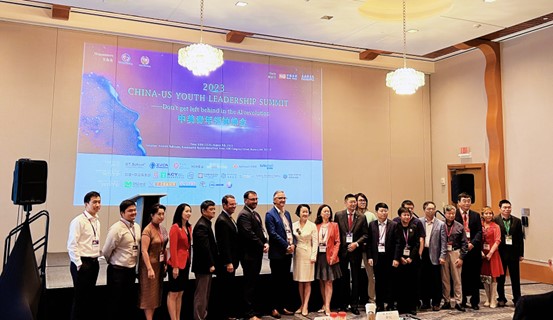 This year's China-US Youth Leadership Summit received extensive support from various organizations and media partners, ensuring its successful realization. As the Summit concluded, participants gathered for a group photo, marking the beginning of a blueprint for the Boston elite ecosystem led by the "Future New Power Center."
[Special Acknowledgments]
[Co-organizers] D.T.School, Zhongguancun Equity Investment Association, Hong Fundation, H20 Summit, Puthishe Cross-School EMBA Alumni Alliance, Wenschool Alumni Network, KUTE Intelligence
[Organizers] Henry Group, Future New Generation
[Strategic Partners] Venture+ Alliance Club, Middle Stream Club, UH Holding Family Office, Global Citizen Year, Global Youth Leadership Association, Future Turing, Yiqu, KWAY PRODUCTIONS, LIQUIDMETAL VENTURES
[Media Partners] CS Media, China-US Innovation Times, US-China Times, Cloud Art Studio, Strategic Investor, DuoDuoLand