The 4th International Youth Leadership Award, jointly selected by the Young Global Leadership Foundation (YGLF) and China-US Leadership Development Foundation (CULDF), was officially announced on January 09, 2023. This award selects only one representative of young international leaders each year. Congratulations to the freestyle skiing world champion, Miss Eileen GU, on winning the fourth"2022 INTERNATIONAL YOUNG LEADERSHIP AWARD".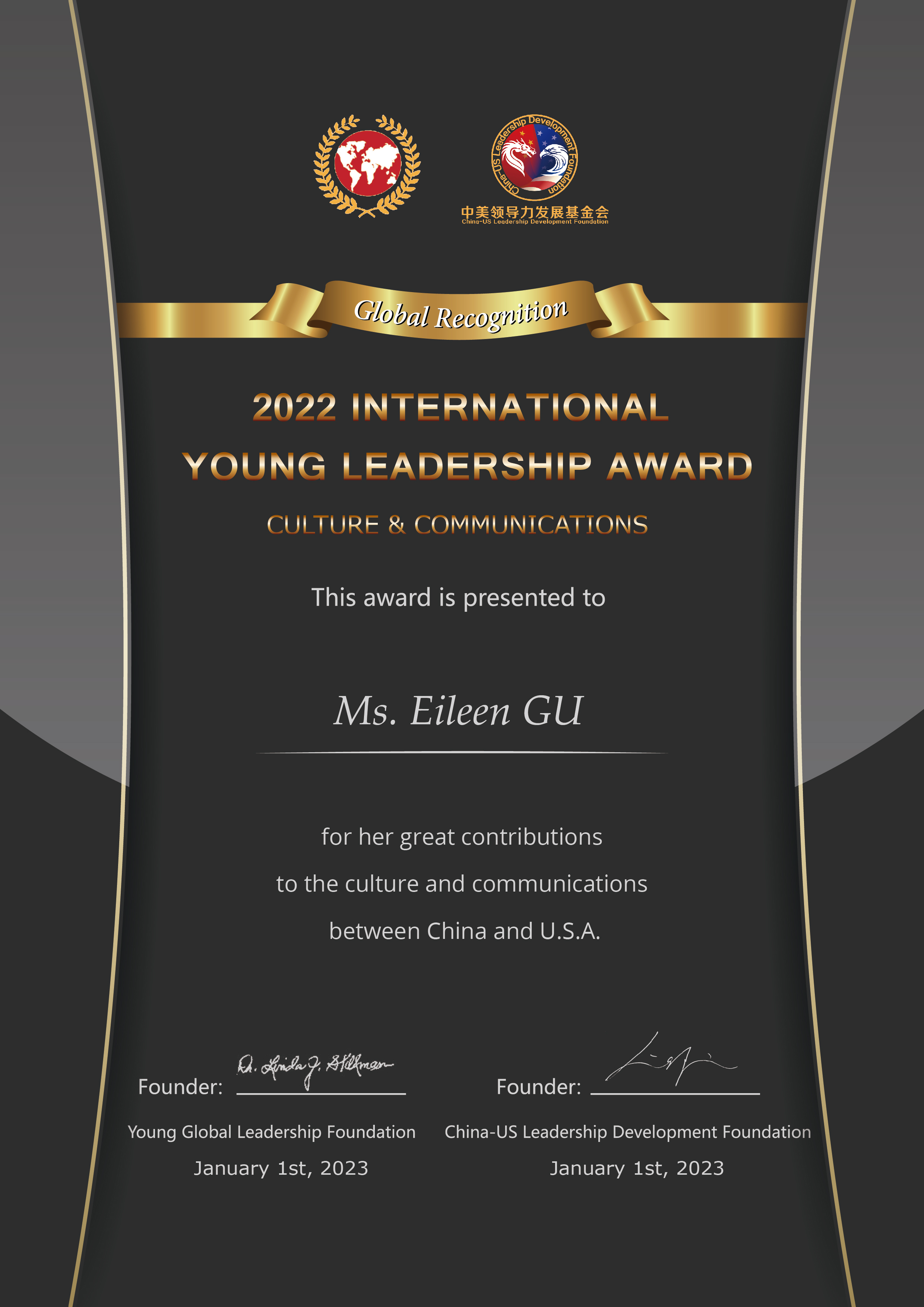 Dr. John Rutledge, the Co-Chair of CULDF, said in an email accompanying the panel's decision, "She (Eileen GU) is a perfect choice. And we badly need people like Eileen who can build bridges between our countries."Dr. John Rutledge, the ancestor of the John family, was the draftsman of the United States Constitution and one of the signers of the Declaration of Independence (Baidu Encyclopedia).
Why Eileen GU?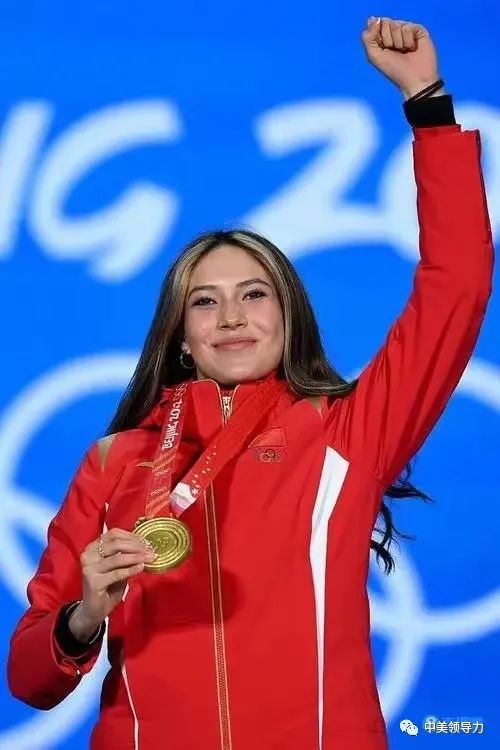 Eileen GU, freestyle skiing world champion
As an ambassador for free skiing in the United States, China and around the world, Eileen GU is an inspiration to young people, especially girls, to build confidence, break their boundaries, and lead happier, healthier lives through sports. Eileen GU says her purpose is to "try to make the world a better place." Based on the borderless sports cause, Eileen has also upgraded the global youth's awareness of sportsmanship in her own unique way — "constantly breaking boundaries and daring to challenge ourselves".
ISSUED UNIT: YOUNG GLOBAL LEADERSHIP FOUNDATION

Learn from the Past ~ Live in the Present ~ Look to the Future
The Young Global Leadership Foundation, Inc. (YGLF) guides aspiring young adult leaders from around the world to become global citizens and democratic leaders. Officially founded in 2012, YGLF guides and provides opportunities to embrace and expand their global visions and goals through their educational, professional and civic engagement choices towards a peaceful, prosperous and positive global society in the 21st Century. YGLF adheres to and advocates the spirit and essence of the United Nations Sustainable Development Goals (SDGs):
【Agenda 2030】
The 17 SDGs address the advancement of: People ~ Planet ~ Peace ~ Prosperity ~ Partnership.
The United Nations: Major Roles and Responsibilities
UN NGO ECOSOC Special Consultative Status (2018-present)
Conference on the Non-governmental Organization (CoNGO): Member
NGO Commission on the Status of Women (CSW) Committee: Member (2017-present)
NGO CSW Planning Committee: Sub-committee Co-chairs
NGO Committee on Education Learning and Literacy (CELL) Vice Chair 2019 – present
United Nations Academic Impact: Member 2016-present)
Long-term YGLF Programs
YGLF Internship Program/ New York and Vienna: To provide exceptional UN experience
Young Leaders to Young Leaders Program: Peers collaborating with Peers and the SDGs
Inter-generational Advisory Council
Inter-generational Mentoring Program: Educational/Professional/Civic Engagement Guidance
YGLF SDG High School Clubs: To advocate and activate SDG initiatives
Salon Sessions: UN, the SDGs and Leadership
ISSUED UNIT: China-US Leadership Development Foundation (CULDF)

Becoming a New Powerhouse in China-US Cooperation
Developing Global Leadership
Cultivating Entrepreneurship among New Generations
Empowering Youth Leaders with Future New Power
The China-US Leadership Development Foundation (CULDF) is a not-for-profit organization registered in the United States in July 2016. CULDF's funding comes from a variety of sources including funds and donations from institutions, corporate groups, and social organizations.
CULDF leverages its vast resources in China's entrepreneurial, media, government sectors and its longstanding partnerships, as well as a network of professionals led by CULDF's founding partner Dr. Hong LI, to fulfill its mission in developing Sino-US relations. CULDF dedicates itself to achieving the following goals: promoting bilateral relationship that is fair and mutually beneficial; strengthening ties in investment and cooperation; creating exchange opportunities for business leaders, young professionals and 2nd generation entrepreneurs; facilitating educational exchanges for youth; promoting Chinese brands in the international arena; deepening relations in new media and among advisory boards.
CULDF also supports individuals, organizations and institutions that serve to promote Sino-US relations with its resources, platform and professional services.
Mission
CULDF is dedicated to bridging the gap between China and United States and deepening political, economical, commercial, educational and cultural ties. Aided by CULDF's highly effective resource allocation and benchmarking mechanism, it serves as a key facilitator of Sino-US relations by promoting valuable, meaningful and impactful programs, resource exchanges, global leadership development and executive summits. In addition, the Foundation takes special interest in helping 2nd and 3rd generation leaders reach their potentials.
Vision
To become the global standard bearer of reliability, effectiveness and efficiency for NGOs in Sino-US cooperation
Culture DNA
Global value creation, exportation of culture and ideas, creativity, internationalization
Value
Excellence, win-win partnership, empathy, inclusiveness
l. Candidate Selection Criteria
This special annual award is individually based. The candidate is required to satisfy more than THREE of the following criteria to be eligible for application and evaluation for this award:
a. Candidates have contributed outstanding achievements highly recognized within their fields of expertise.
b. Candidates and their accomplishments have created widely recognized values in society with far-reaching significance.
c. Candidates' innovativeness promote and elevate STEAM EDUCATION: Science, Technology, Environment, Arts and Mathematics.
d. Candidates' contributions benefit the public and broaden social welfare.
e. Candidates' initiatives diversify and deepen their values through collaborating and connecting their contributions to other fields.
f. Candidates serve as peaceful, prosperous and positive role models to advance social development in their communities, countries and globally.
g. Age range: 18-45 years old.
II. Award Evaluation Committee
The global evaluation committee has been jointly created by YGLF and CULDF, as the executive group for candidate review and selection. The committee members are comprised of exemplary professional and ethical leaders in diversified fields of expertise. They represent both the public and private sectors from across the spectrum of society, worldwide.
III. Committee Member Profiles  [more]