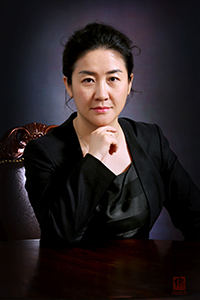 Founder of China-US Leadership Development Foundation
Founder of China-US Young Leadership Summit
Founder of Future New Power
Founder of China New Media International Communication Center
Chief Editor, book series of 《Chinese Entrepreneurship Characters》
Personal Awards:
Based on the past achievements, Dr. Hong LI was won:
2022 Forbes China • Global Top100 Outstanding Chinese
2021 "Top100 Cultural China Role Model of the Times", from the world stamp commemorative collection of the EU Philately Association & United Nations World Intangible Cultural Heritage Production Foundation
2019 "2019 Global Outstanding Women Leadership Award" from the 2019 Global CSR Summit Award.
2017 "2017 Top30 Asian Influtial Female CEO" from the China Financial Network.
2015 "Top30 Most Influential Chinese New Media Woman" from New Media Federation in 2015;
2008 "Mass Media Excellent Management Contribution Award" granted by the International Management Institute (IMI) in December 28th, 2008.
2007 "2007 China 100 Outstanding Businesswoman Award"which granted by the Chinese Women Entrepreneurs Association" in December 9th, 2007.
2006 "Award of Outstanding Contribution" from the WIN IN CHINA Program of China Central Television (CCTV-2).
2004 "Award of Excellent News of Science & Technology" from the Ministry of Science and Technology of the P.R.C. and Chinese Academy of Sciences.
Education Background:
2011 Ph.D. degree in School of Economics & Management, University of Chinese Academy of Sciences.
2008-2010 Visiting Research Scholar in the Information School, UC Berkeley, USA.
2000 MBA degree in Leeds University Business School, Britain.
Career Background:
2016-Now Founder of China-US Leadership Development Foundation Founder of China-US Young Leadership Summit
2019-Now Founder of Future New Power
2012-2016 Partner of ZHISLAND. Principal of Zhisland Global Fellowship, ZHISLAND.
2007-2010 Senior Advisor, Rutledge Capital LLC.
2001-2006 Chief Director, WIN IN CHINA Program of China Central Television (CCTV); Guest Booker & Director, Dialogue Program of CCTV-2.
Dr. Hong LI has won high public praise and obtained professional respect in China for many years based on her capability in dealing media relationships with governments, embassies, foreign agencies in China and worldwide; and also because of she was capable to invite worldwide famous VIPs such as entrepreneurs, politicians, economists, experts etc. for DIALOGUE program and WIN IN CHINA program in the Economic channel of China Central Television (CCTV-2). The two programs are both well known in China. Dr. Hong LI has been successfully invited a good number of celebrities, such as Tony Blair (Prime Minister of Britain), John Snow (US Treasury), Lee Kuan Yew (Senior Minister of Singapore), Supachai Panitchpakdi (Director-General of the World Trade Organization), Joseph Stiglitz (2001 Nobel Laureate of Economics), Stephen Roach (Chief Economist of Morgan Stanley) etc. for Dialogue of CCTV-2 during 2002-2004; and invited Robert A. Mundell (The"Father of Europe Currency"), John Rutledge(former financial advisor to U.S. Presidents), Long Yongtu (Chief Representative of Chinese Delegation for China entry into WTO negotiations), Fan Gang (famous Chinese economist), Martin Wolf (Chief Economics Commentator of Financial Times) etc. for WIN IN CHINA in 2006. Dr. Li Hong has been led, strategized and emceed the"HK, Macao, and mainland Preeminence Chinese Businesswoman Leadership Forum"in 2006 and the "Chinese Businesswoman Innovation Forum"in 2007 held by Chinese Women Entrepreneur Association. She also has been planed and organized"Kennedy School of Government (KSG of Harvard University) China Forum"in June 2005, Ms. Hong was acted as the owner & principal of"KSG Forum".
The China-US Leadership Development Foundation (CULDF) is a not-for-profit organization registered in the United States in July 2016. CULDF is dedicated to bridging the gap between China and United States and deepening political, economical, commercial, educational and cultural ties. Aided by CULDF's highly effective resource allocation and benchmarking mechanism, it serves as a key facilitator of Sino-US relations by promoting valuable, meaningful and impactful programs, resource exchanges, global leadership development and executive summits. In addition, the Foundation takes special interest in helping 2nd and 3rd generation leaders reach their potentials. CULDF Foundation successfully held two sessions of China-US Young Leadership Summits in Silicon Valley from 2018 to 2019.
The Future New Power was established in December 2019. It is an incubator platform for discovering and cultivating the second and third generations of international leading talents. The China-US Leadership Development Foundation is an incubator for " Future New Power ". It is an NGO that leverages the cultivation of "Youth&Young Leadership" to leverage the new generation of global forces.
From 2016 to 2021, CULDF and the Future New Power have listed on the NASDAQ LED screen as well as other Times Square LEDs in New York, USA for more than 7 times.